Key Factors Affecting Home Affordability Today
Every time there's a news segment about the housing market, we hear about the affordability challenges buyers are facing today. Those headlines are focused on how much mortgage rates have climbed this year. And while it's true rates have risen dramatically, it's important to remember they aren't the only factor in the affordability equation.
Here are three measures used to establish home affordability: home prices, mortgage rates, and wages. Let's look closely at each one.
1. Mortgage Rates
This is the factor most people are focused on when they talk about homebuying conditions today. So far, current rates are almost four full percentage points higher than they were at the beginning of the year. As Len Kiefer, Deputy Chief Economist at Freddie Mac, explains:
"U.S. 30-year fixed mortgage rates have increased 3.83 percentage points since the end of last year. That's the biggest year-to-date increase in rates in over 50 years."
That increase in mortgage rates is impacting how much it costs to finance a home purchase, creating a challenge for many buyers that's pricing some out of the market. While the current global uncertainty makes it difficult to project where mortgage rates will go in the future, experts do say that rates will likely remain high as long as inflation does.
2. Home Prices
The second factor at play is home prices. Home prices have made headlines over the past few years because they skyrocketed during the pandemic. Now, the most recent Home Price Index from S&P Case-Shiller shows home values continued to decelerate for a fifth consecutive month (shown in green in the graph below):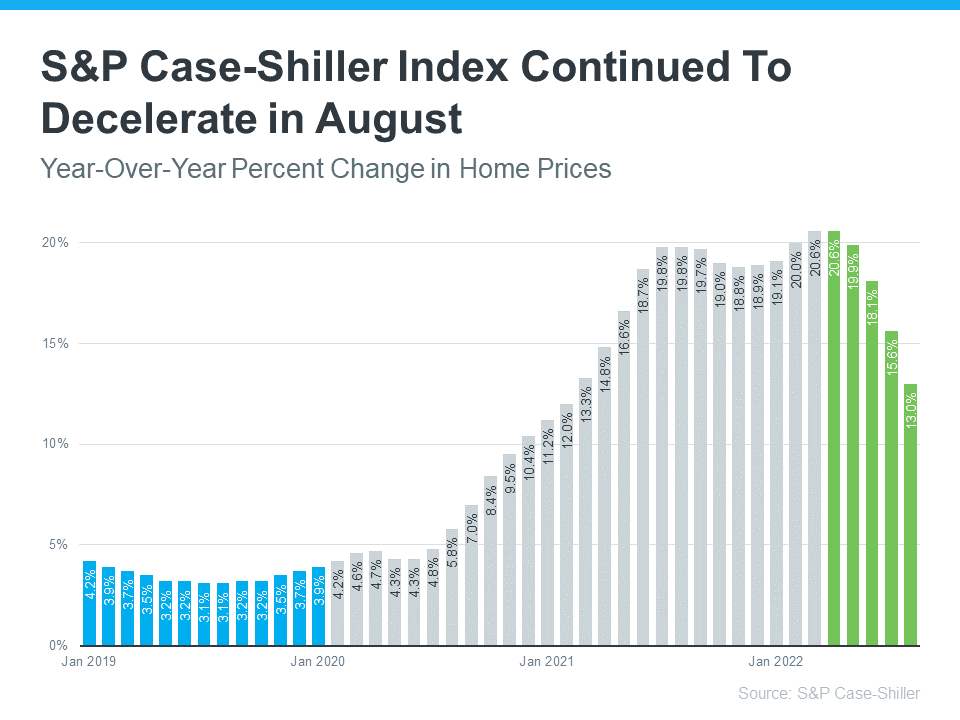 This deceleration is happening because higher mortgage rates are moderating demand, and as a result, easing the buyer competition and bidding wars that previously drove prices up.
What's worth noting though, is how much higher home prices still are than they were before the pandemic (shown in blue in the graph above). Even now, we have a long way to go to get to more normal levels of home price appreciation, which is historically closer to 4%. When both mortgage rates and home prices are high, affordability and your purchasing power become a greater challenge.
But while prices are still elevated in many markets, some areas are seeing slight declines. It all depends on your local market. For insight into what's happening in your area, reach out to a trusted real estate professional.
3. Wages
The one big, positive component in the affordability equation is the increase in American wages. The graph below uses data from the Bureau of Labor Statistics (BLS) to show how wages have grown over time. This year is no exception.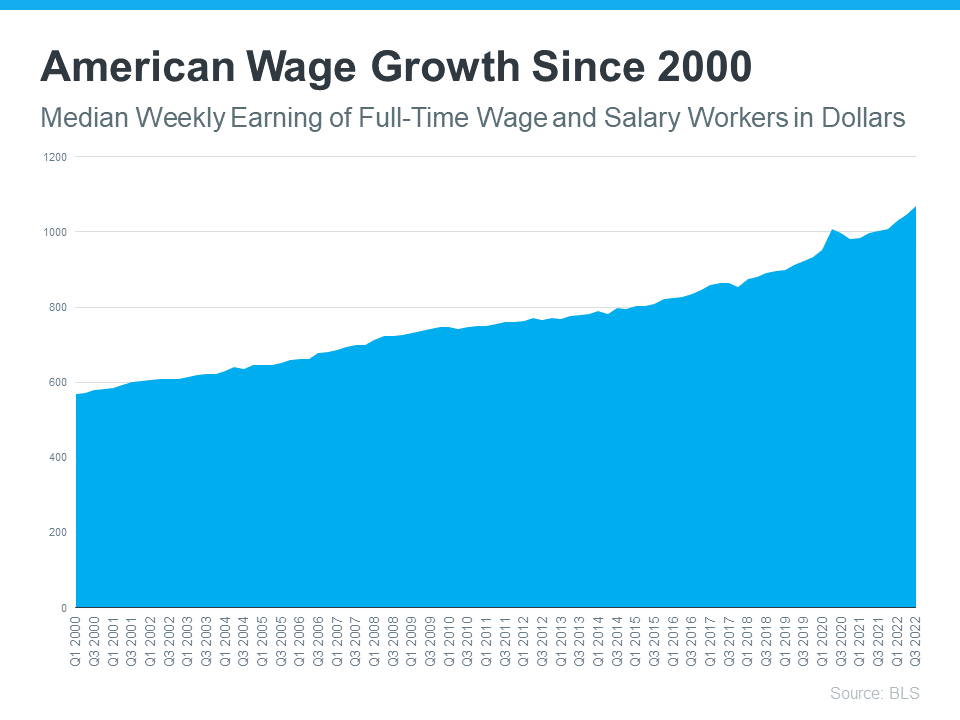 As the Bureau of Labor Statistics (BLS) reports:
"Median weekly earnings of the nation's 120.2 million full-time wage and salary workers were $1,070 in the third quarter of 2022 (not seasonally adjusted), the U.S. Bureau of Labor Statistics reported…This was 6.9 percent higher than a year earlier…"
So, when you think about affordability, remember the full picture includes more than just mortgage rates. Home prices and wages need to be factored in as well. Because wages have been rising, they're a big reason why serious buyers are still purchasing homes this year.
If you have questions or want to learn more, reach out to a trusted advisor who can explain how all of these variables work together and what's happening in your area. As Leslie Rouda Smith, President of the National Association of Realtors (NAR), says:
"Buying or selling a home involves a series of requirements and variables, and it's important to have someone in your corner from start to finish to make the process as smooth as possible… and objectivity to deliver trusted expertise to consumers in every U.S. ZIP code."
Bottom Line
To learn more, let's connect today ( Marty Remo, RE/MAX, 845.656.2527) and make sure you have a trusted lender so you're able to make an informed decision if you're planning to buy or sell a home right now.
Key Insights from Experts
According to Mortgage Sandbox, five-year fixed rates are currently in the 4% range, and five-year variable rates are in the 2% range. Robert Hogue writes that fixed mortgage rates are "quickly returning to pre-pandemic levels", and the Bank of Canada's hiking campaign will soon affect variable rates as well. Fixed rates have already risen between 1% and 1.5% from the record-low pandemic rates.
Rising interest rates will influence some markets more than others. According to RBC's latest monthly update, lower-priced markets, such as Atlantic Canada and the Prairies, are less sensitive to rising rates. In parts of Ontario and BC, Canada's most expensive markets, buyers will be most affected.
April 2022 statistics from the Canadian Real Estate Association (CREA) suggest the beginning of a cooling period for Canada's housing market. National home sales dropped 12.6% between March and April. This decline represents the lowest monthly activity in almost two years. Jill Oudil, chair of CREA, points to the rise in interest rates and buyer fatigue as reasons for the slowdown.
What Factors Will Affect the Market?
In the past decade, affording a down payment was the biggest financial obstacle for many homebuyers. Now, however, down payments are just one of several hurdles that prospective buyers will have to face. Rising interest rates present a significant new challenge. Between October and April of 2022, "the monthly payment for a new mortgage on a typical home in Canada increased by nearly $800 a month", Ben Rabidoux, founder of research firm North Cove Advisors, told the Globe and Mail.
The combination of interest rate increases and record-high home prices puts buyers in a difficult situation. Housing affordability is "spiraling to worrisome levels", according to RBC's March 2022 Housing Affordability Report. Although the pandemic certainly sent things into overdrive, house prices in Canada have been rising steadily over the past two decades, resulting in a 375% nationwide increase.
High house prices are discouraging for some buyers, but there are still ways to achieve their homeownership goals. Buyers may have to tweak their preferences, such as considering more affordable areas, looking for a more modest space, or opting for mortgages with lower rates. As pandemic restrictions ease and living situations change, Canadians may also adjust their housing needs.
Mortgage Rate Options
When it comes to choosing between different mortgage rate options, Canadians will have to carefully consider their options. Frances Hinojosa, a Toronto-based mortgage broker, told the Globe and Mail that although Canadians usually prefer five-year terms, "some buyers may find a better fit in a shorter-term fixed rate, which might allow them to ride out the current spate of interest-rate increases without committing to a relatively higher rate for five years."
Jimmy Jean, chief economist at Desjardins, told Global News that the past two years also saw an increase in the popularity of variable rate mortgages. Jean predicts that after hearing the Bank of Canada's plans to raise interest rates, some buyers will prefer the peace of mind of a fixed rate. However, variable rates are still a viable option for those looking for a lower alternative. Variable rates are expected to remain below 3% well into the coming year.
Looking Ahead to 2023
Some of the forecasts may sound bleak, but rising interest rates aren't an immediate cause to panic. According to economist Robert Hogue, "rather than pose a major threat, we think rising interest rates are likely to bring welcome changes to the market—including more sustainable activity, fewer price wars, more balanced conditions, and modest price relief for buyers. After the extreme price increases and heated bidding wars of the last year, this would be a positive shift."
Hogue suggests that the odds of a housing market crash are low, as Canada's positive demographic factors will provide a "safety net". Millennials and the growing immigrant population are key forces in the demand for housing.
CREA forecasts that 612,800 properties will trade hands in 2022, which is a decline from 2021, but still the second-highest annual figure ever. These historically strong home sales are forecast to continue into 2023, but CREA suspects that higher prices, higher interest rates, and limited supply will further slow market activity and price growth, particularly in expensive markets.
We're Here to Help
Are you curious about what this means for you and your unique situation? We're here to help you understand and navigate this changing market.
Let's Talk
FEATURED LISTINGS
Get instant access to the latest properties to hit the real estate market.
FEATURED LISTINGS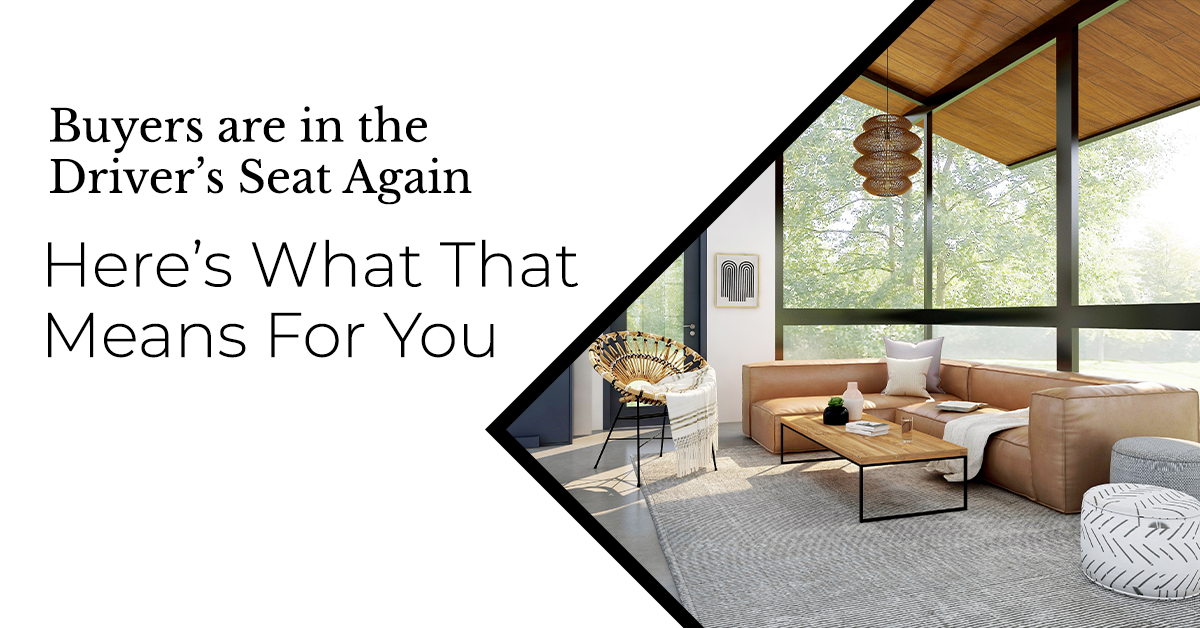 Homebuyers can find resources to make buying their new home now more affordable with an ad...